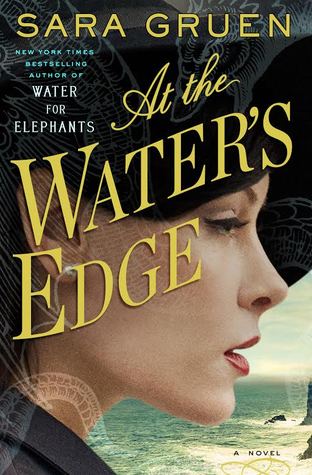 Last night, I finished At The Water's Edge by Sara Gruen, and it was amazing. I originally picked it up because it was in the "available now" section of my local library's Libby app, and because I read the author's book Water for Elephants back in in like 2010 and liked her writing style.
I was completely enthralled by the characters—though many of them were infuriating—surprised repeatedly by the events that unfolded as the story progress, and found myself so angry about certain developments that I could hardly stop myself from throwing my Kindle across the living room. (I may have thrown it down onto the couch so forcefully that my husband asked me why I was reading a book that I clearly hated so much. Ha!)
Hands down, this story would make an intriguing and beautiful movie.
At The Water's Edge is a dark story about a trio of spoiled, rich friends who run away to Scotland in the middle World War II, dead set on proving the existence of the Loch Ness Monster—something about restoring the family's honor, or perhaps for revenge, or possibly just because they were pretty drunk when they decided to go. The book blurs the line between realism and the supernatural/ fantastical, and parts of it teeter on feeling almost outlandish. But somehow, in the very next moment, Gruen has you believing that an insane thing just happened. Possibly could *actually* happen.
*minispoiler*
Based on the first few chapters, I was not expecting any kind of romantic subplot, and then one blindsided me in such a good way.
Well-written, painstakingly researched, and absolutely heartbreaking. I loved it.