If you're showing up here because you downloaded the book for free—HI! Welcome! I'm really glad you're here.
With the Kindle Freebie promotion bringing the cost of the Outsmarting Time eBook down to the low, low price of $0.00, my book rocketed to the top of the Kindle Top 100 Free Bestsellers list in the Time Travel category, peaking at #1! PROOF: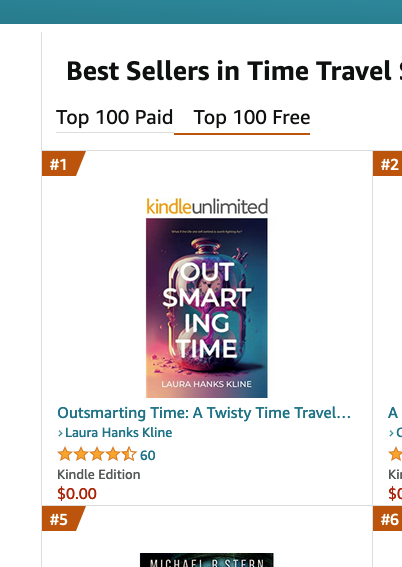 It also got as high as #19 in the Contemporary Women's Fiction category, which is not a category I selected for it… but Amazon does its thing and that's where it showed up! (Maybe the next iteration of the cover should fit that genre… we'll see. Hmmmm.)
In the overall Kindle Top 100 Free charts, it reached #274, so that's also pretty cool!
Now that the price is back to normal at $2.99, it's dropping quickly back to its normal home in obscurity. Honestly, it's such a ride each time I spend time doing a free promo to watch downloads jump for a few days. I didn't get into this job for the money and the fame (ha). I just want people to read what I wrote and enjoy the story. To meet Edie, Ara, and Wade and go on the journey with them.
Thanks for reading and following along!